Kingston, Ontario–(Newsfile Corp. – February 2, 2023) – Delta Resources Limited (TSXV: DLTA) (OTC Pink: DTARF) (FSE: 6GO1) ("Delta" or "the Company") is pleased to provide an update on its ongoing exploration programs at the Delta-2 VMS project located 35 kilometres SE of Chibougamau, Quebec, and it's Delta-1 Gold project located 50 km west of Thunder Bay, Ontario.
DELTA-2 PROPERTY EXPLORATION UPDATE
Summer 2022 Exploration:
Delta completed the following:
Borehole EM surveys on 18 drill holes from Delta's 2022 drill program.
A 721 line kilometre helicopter-borne VTEM program to cover over 60 square kilometres in the eastern portion of the property including the Dollier Option (Delta Announces Option Agreement to Acquire the Dollier Property from Cartier Resources).
An extensive program of geological mapping, prospecting, and mechanical trenching to ground-proof the conductors detected by the helicopter-borne VTEM survey where possible.
2022 Results:
The program was highlighted by the discovery of a new massive to semi-massive lens located 615 metres south-east of the Cartier Gold occurrence (a gold-only volcanogenic massive sulphide lens discovered in 2012). Two initial grab samples returned 4.9% Zn and 0.3% Cu, and 1.25% Zn and 0.2% Cu. Follow-up channel sampling of the lens returned 1.12% Cu and 1.08% Zn over 50 centimetres. The discovery is in the vicinity of a new VTEM conductor defined over a minimum of 300 metres (see Figure 1: Target #2).
Elsewhere at the property, the majority of the conductors detected by VTEM lie under glacial cover and will need to be drill-tested where they are deemed to be in prospective geological settings.
2023 Exploration:
Delta will initiate its 2023 exploration at the Delta-2 VMS project with a 3,000-metre drill program aimed at:
New VTEM conductors that have never been drill tested before and that show characteristics of VMS deposits. Those targets have short strike lengths are generally isolated, and located in geologically prospective areas where sulphide horizons show enrichment in economic metals such as zinc, copper, gold and silver.
Off-hole EM anomalies where initial drilling shows sulphide horizons enriched in economic metals and where prospective alteration has been observed.
Additional follow-up exploration will consist of geological mapping, trenching and potentially additional drilling based on results.
The Delta-2 project is located in the Chibougamau Mining District of Quebec. The project covers 194 square kilometres where Delta targets VMS deposits such as the LeMoine past producer where 0.76 Mt were mined between 1975 and 1983, grading 9.6% Zn, 4.2% Cu, 4.5 g/t Au and 84 g/t Ag located 1.5 kilometre north of the property boundary.
DELTA-1 PROPERTY EXPLORATION UPDATE
Delta is expecting final assay results from the remaining drill holes of the 2022 program in the coming week. Drill holes D1-22-24 and D1-22-25 were drilled 50 metres and 100 metres east of drill hole D1-22-18, which returned a drill intercept of 14.8 g/t Au over 11.9 metres, within a broader interval of 5.92 g/t Au over 31 metres.
Delta is currently completing its fourth drill hole of the 2023 winter drill program previously announced on January 17, 2023 at the Delta-1 Project in Thunder Bay, Ontario. Delta is testing the 3D modelled eastern extension of the Eureka Gold Zone where dips are increasing to 80 degrees towards the north. All 2023 results are pending.
Qualified Person
Daniel Boudreau, P.Geo. and Manager of Exploration of Delta Resources Limited, is a Qualified Person as defined by NI-43-101, and will be supervising the drilling programs. Mr. Boudreau has reviewed the technical information presented in this press release.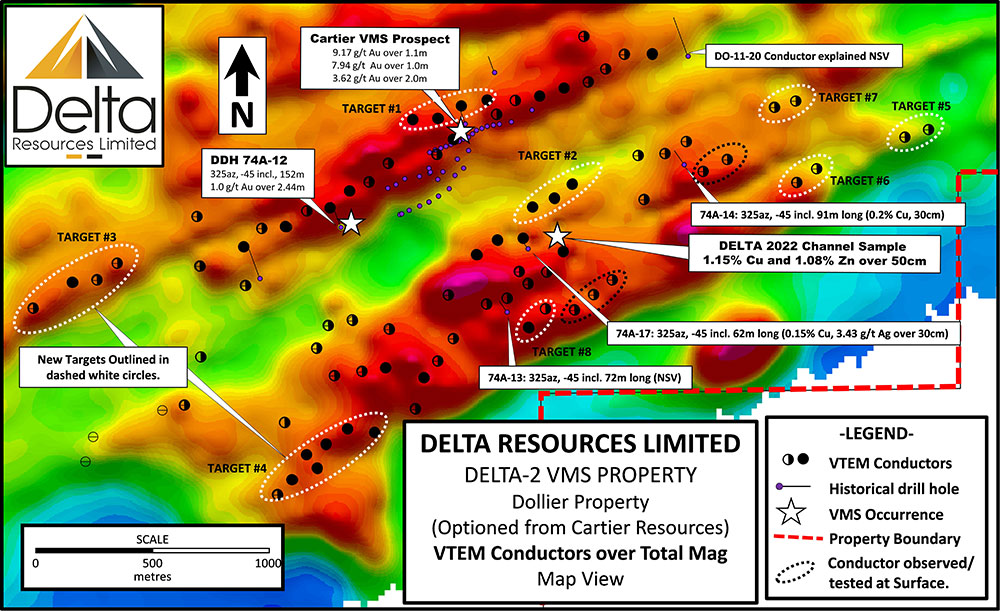 Figure 1: Map showing VTEM conductors over total magnetic background at the Dollier Option; Delta-2 VMS. The map also shows historical occurrences and Delta's new occurrence of 1.15% Cu and 1.08% over 50 cm. New targets are outlined in dashed white lines.
About Delta Resources Limited
Delta Resources Limited is a Canadian mineral exploration company focused on growing shareholder value through the exploration of two very high-potential gold and base-metal projects in Canada.
DELTA-1 covers 58.3 square kilometres located 50 kilometres west of Thunder Bay, Ontario, where a gold mineralized zone 950 metres long was outlined through drilling in a multi-kilometre-scale intense alteration halo. Best grades to date include a drill intercept of 14.8 g/t Au over 11.9 metres, within a broader interval of 5.92 g/t Au over 31 m. The zone is open in all directions.
DELTA-2 VMS and DELTA-2 GOLD covers 194 square kilometres in the prolific Chibougamau District of Quebec. The property holds excellent potential for gold-rich polymetallic VMS deposits as well as hydrothermal-gold deposits. Delta targets VMS deposits such as the LeMoine past producer, where 0.76 Mt were mined between 1975 and 1983, grading 9.6% Zn, 4.2% Cu, 4.5 g/t Au and 84 g/t Ag.
ON BEHALF OF THE BOARD OF DELTA RESOURCES LIMITED.
Andre C. Tessier
President, CEO and Director
www.deltaresources.ca
We seek safe harbor. Neither TSX Venture Exchange nor its Regulation Services Provider (as that term is defined in the policies of the TSX Venture Exchange) accepts responsibility for the adequacy or accuracy of this release. The TSX Venture Exchange has not approved nor disapproved of the information contained herein.
For Further Information:
Delta Resources Limited
Frank Candido, Chairman, VP Corporate Communications
Tel : 514-969-5530
fcandido@deltaresources.ca
or
Andre Tessier, CEO and President
Tel: 613-328-1581
atessier@deltaresources.ca
Cautionary Note Regarding Forward-Looking Information
Some statements contained in this news release are "forward-looking information" within the meaning of Canadian securities laws. Generally, forward-looking information can be identified by the use of forward-looking terminology such as "plans", "expects", "is expected", "budget", "scheduled", "estimates", "forecasts", "intends", "anticipates", "believes" or variations of such words and phrases (including negative or grammatical variations) or statements that certain actions, events or results "may", "could", "would", "might" or "will be taken", "occur" or "be achieved" or the negative connotation thereof. Investors are cautioned that forward-looking information is inherently uncertain and involves risks, assumptions and uncertainties that could cause actual facts to differ materially. There can be no assurance that future developments affecting the Company will be those anticipated by management. The forward-looking information contained in this press release constitutes management's current estimates, as of the date of this press release, with respect to the matters covered thereby. We expect that these estimates will change as new information is received. While we may elect to update these estimates at any time, we do not undertake to update any estimate at any particular time or in response to any particular event.