The Delta-1
Gold

Property, Ontario, Canada
| | |
| --- | --- |
| LOCATION | Located in the Shebandowan Greenstone Belt. |
| OWNERSHIP | Exclusive rights to acquire a 100% interest in the property. |
| HISTORY | Only 42 drill holes have tested this 49 square kilometre property. |
| COMMODITIES | Gold, Nickel, Copper |
| STATUS | Many targets were drill-ready at the Delta-1 property and have been tested. |
| MINERALIZATION | Chip sampling within the Eureka Gold occurrence zone returned assays of 13.8 g/t Au over 5m, 5.9 g/t Au over 5m, 2.4 g/t over 5m, 2.2 g/t Au over 10m, 1.6 g/t Au over 12m and 1.4 g/t Au over 7m |
Watch this latest video on the Thunder Bay, Delta-1 property where we intersected visible Gold in 4 out of 9 holes. Results are pending and should be available soon.
The Delta-1 Property is located 50 km west of the City of Thunder Bay by traveling west on the Trans-Canada highway, in the Thunder Bay Mining Division. 
The property straddles the Trans-Canada highway for 16 kilometres and can be further accessed by a series of forestry roads and haulage trails that cover much of the area.
The property comprises 245 contiguous unpatented claims covering 4,495 hectares or approximately 49 square kilometres (Figure 2). Only 42 drill holes have tested this 49 square kilometre property to date. Of these drill holes more than half were aimed at Ni-Cu targets prior to 1972.  The last drill program was aimed at 2 mineral occurrences some 16 years ago in 2003.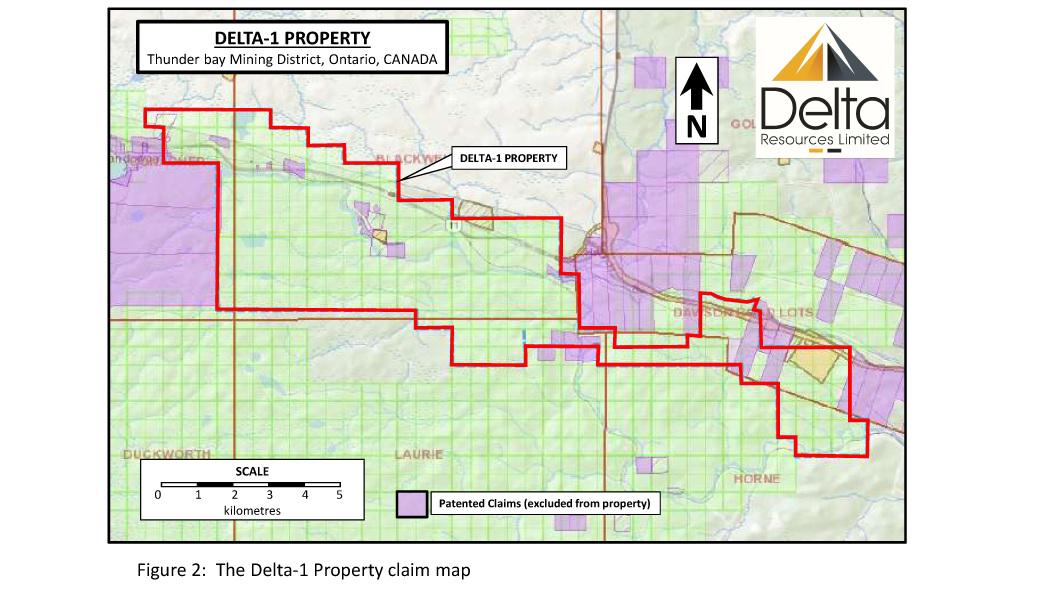 Regional Geology
The project area lies in the north-central portion of the Shebandowan greenstone belt in the Superior structural province of the Canadian Shield.  The volcanic-sedimentary units of this belt are bounded to the south by granitic terrain and to the north by the Quetico subprovince.
Two distinct supracrustal rock suites known as the Greenwater and Shebandowan assemblages have been identified within the Shebandowan Belt (Figure 3).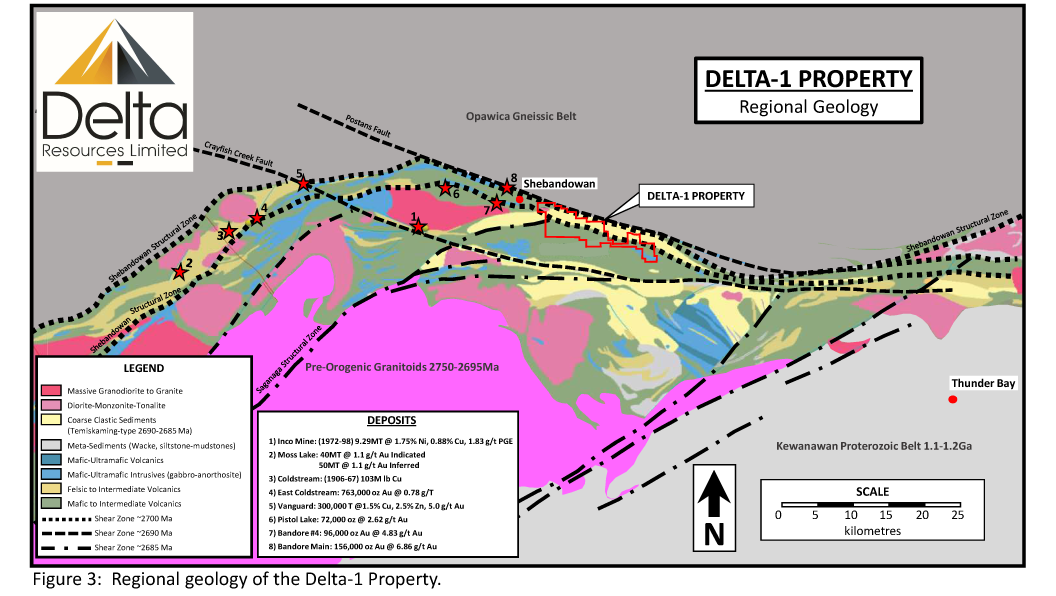 The Greenwater assemblage is older (ca. 2720 Ma) and is dominated by mafic to felsic metavolcanic rock cycles consisting of tholeiitic to calc-alkalic rocks, along with some komatiitic rocks. The younger Shebandowan assemblage (<2690 Ma) unconformably overlies the Greenwater assemblage and is dominated by clastic metasedimentary rocks, with subordinate calc-alkalic to alkalic intermediate metavolcanic rocks and intrusions.  Sedimentary rocks of the Shebandowan assemblage were deposited in fault-bounded basins related to the Shebandowan and Saganaga Structural Zones during regional transpressive deformation at ca2690 Ma.
The clastic sedimentary rocks of the Shebandowan assemblage are often referred to as "Timiskaming-type" because of their similarity to the Timiskaming group rocks of the Abitibi greenstone belt.
In the Shebandowan Belt the unconformity between the Greenwater and Shebandowan assemblages has a close spatial association with numerous gold occurrences.  In fact, the same spatial association between gold deposits and the unconformities between volcanics and Temiskaming-type sediments is common throughout the Shebandowan, Wawa and Abitibi belts.
Structural Features:
The Shebandowan Structural Zone (ca2700Ma) is a deep-seeded structure that marks the boundary between the Quetico and Shebandowan belts.  The deformation zone is marked by swarms of intrusive units and locally extensive zones of intense carbonate, sericite and talc alteration and in excess of 5 million ounces of gold deposits along a 100-kilometre strike length eastward from the Moss Lake Deposit to the Delta-1 Property.
The Saganaga Structural Zone (ca2690Ma) is sinistral in sense and continental in scale striking over 200 kilometres from Minnesota northeastward through the Delta-1 Property area. Timiskaming-like pull apart basins mark the length of the structural zone with early alkaline volcanics and related intrusions dominating northeast basins. Important gold occurrences have been discovered along the entire strike length of the structure.
The Crayfish Creek and Posten's Faults are two late-stage (ca2685Ma) dextral sense structural zones.
Regional Mineralization Models include Orogenic Gold Mineralization (Moss Lake, Pistol Lake and Bandore), VMS Mineralization (Coldstream) and Magmatic Ni-Cu-PGE Mineralization (Shebandowan "Inco" Mine).
Property Geology
In the property area, the Greenwater assemblage rocks generally occur to the south of highways 11. The rocks are generally mafic to intermediate metavolcanics (including massive and pillowed flows) with ultramafic flows (locally with spinifex textures). These metavolcanic flows are intercalated with thin horizons of graphitic mudstone, sulphide-bearing chert, jasper-magnetite, chert-magnetite iron formation all of which translate into high conductive zones. Numerous gabbro sills and dikes intrude the Greenwater assemblage supracrustal rocks throughout this area.
Shebandowan assemblage rocks are found in the area along and immediately to the north of highways 11. This assemblage is dominated by clastic metasedimentary rocks, including conglomerate, sandstone, siltstone and mudstone. These rocks are interlayered with distinctive trachyte and trachyandesite flows that commonly display a patchy red and green appearance and tend to be amphibole-phyric. These rocks are intruded by feldspar-phyric felsic to intermediate dikes, gabbroic intrusions and lamprophyre dikes.
Foliation is well-developed and generally strikes east-southeast with near-vertical dip. The rocks have been deformed into tight isoclinal folds with east-southeast striking axial planes. Shear zones that parallel the regional foliation occur throughout the area and are especially well-developed along trends that coincide with the gold-mineralized zones on the Delta-1 property.  Also associated with these shear zones are extensive zones of gold-bearing alteration consisting of intense ankerite-calcite and disseminated pyrite and arsenopyrite.
Structurally, the property is located at the intersection of the Shebandowan, Saganaga and Posten's faults.  The property covers a 17-kilometre strike extent of the favourable Shebandowan structural zone.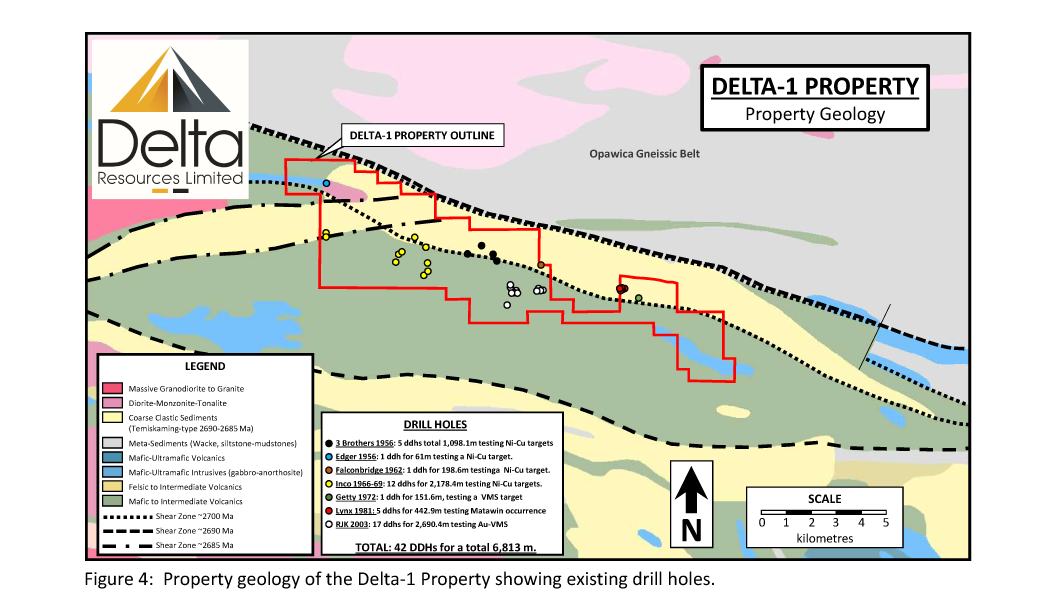 The gold mineralization at Delta-1 is hosted by chert and chert breccia units, graphitic shear zones and their associated carbonate alteration zones.
Figure 5 shows the distribution of gold occurrences in the vicinity of the Delta-1 property while Figure 6 shows the mechanical trenching of 2017 on the Matawin prospect.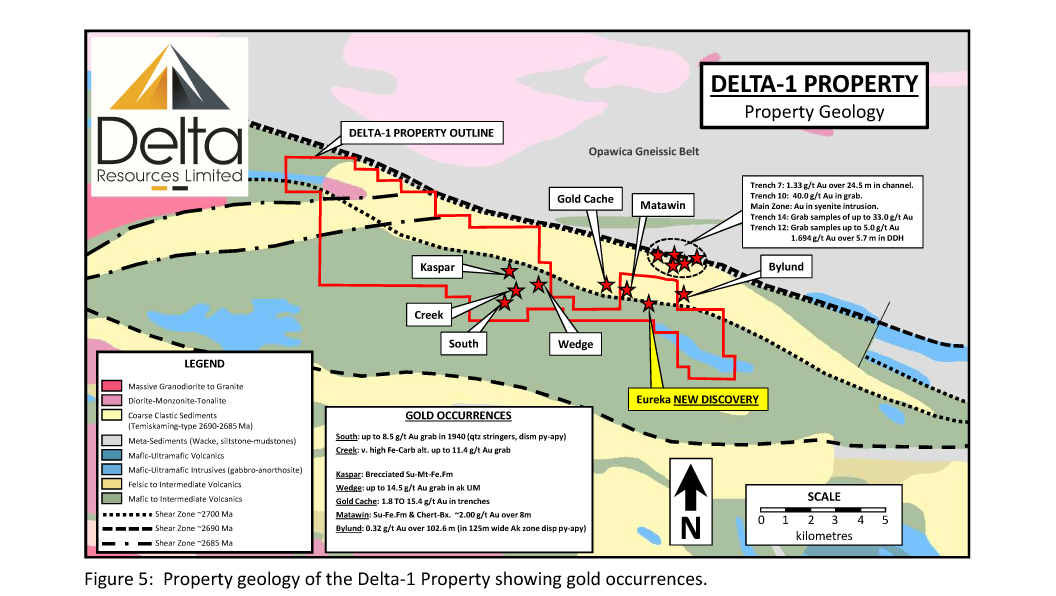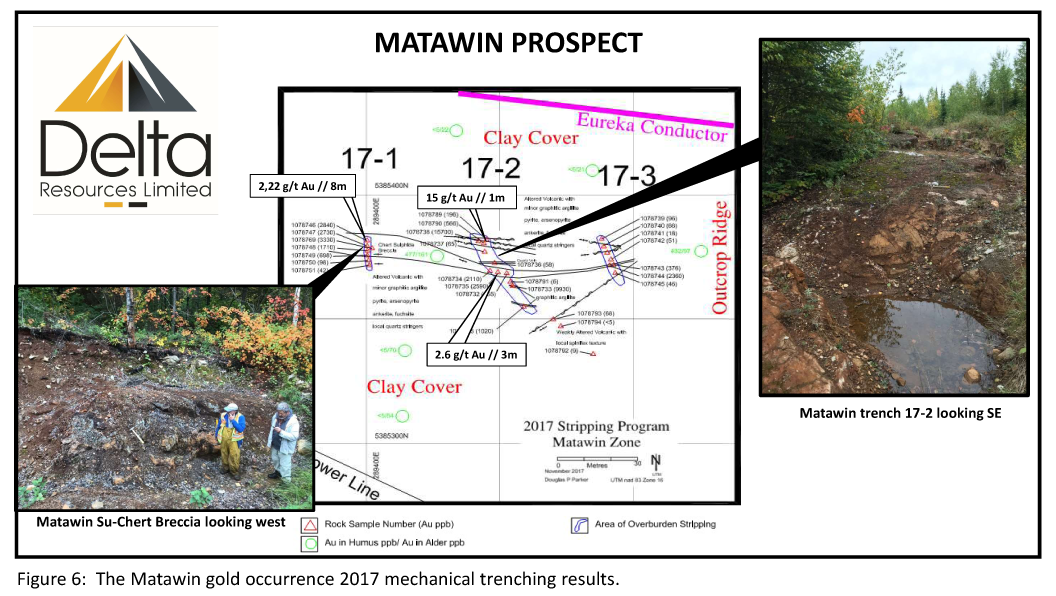 The Eureka Gold occurrence (Figures 7-8) was discovered in 2018 through mechanical trenching. The zone consists of intersecting gold-bearing structures trending NE and EW. A broad halo of intense ankerite-calcite alteration is observed over a strike length greater than 2km and a width of up to 400m. The alteration zone is gold-bearing and contains a network of quartz-carbonave veins and veinlets with disseminated pyrite and arsenopyrite within the veins and the host rock.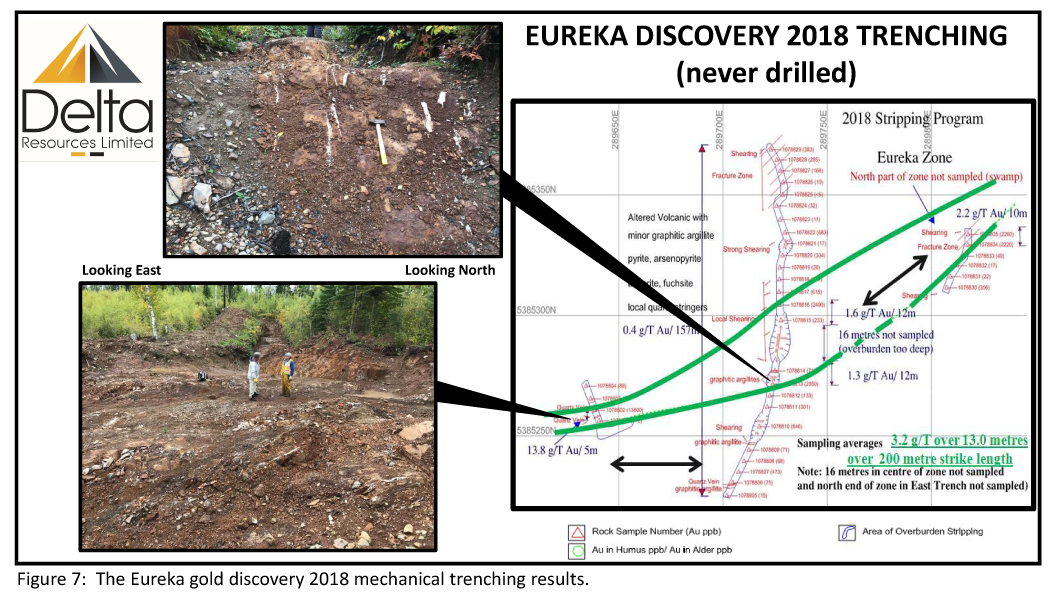 Chip sampling within the Eureka zone zone returned assays of 13.8 g/t Au over 5m, 5.9 g/t Au over 5m, 2.4 g/t over 5m, 2.2 g/t Au over 10m, 1.6 g/t Au over 12m and 1.4 g/t Au over 7m (see figure 6). The zone remains untested by drilling over strike length of over 1.5km.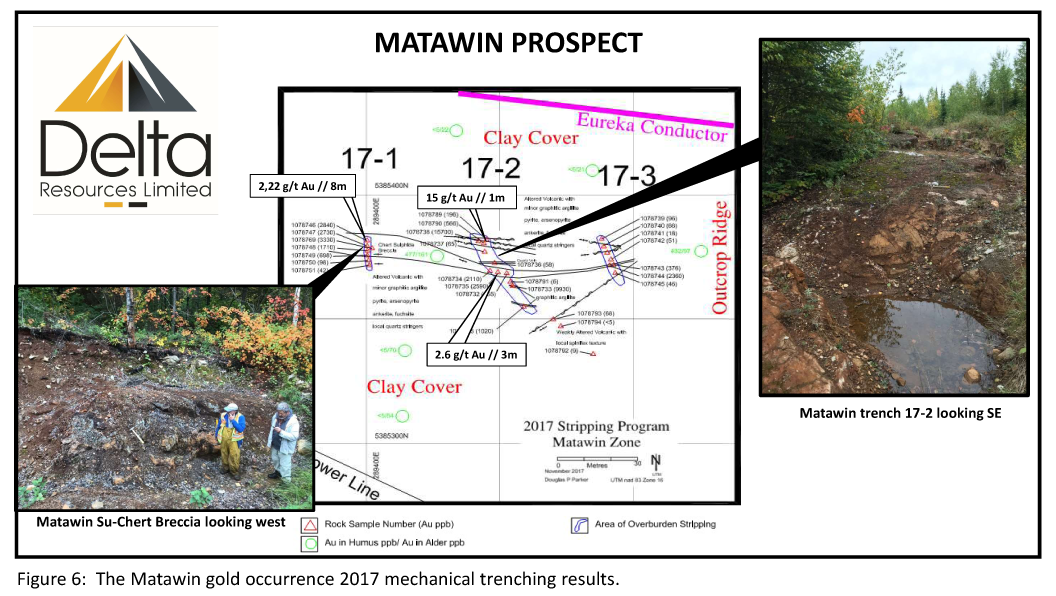 Delta is targeting mineralization which is similar to the Moss Lake gold deposit, located within the Shebandowan structural zone some 50 kilometres to the west (Figure 3). The Moss Lake gold deposit is a large tonnage-low grade deposit amenable to surface bulk mining methods. The Moss Lake deposit is owned by Wesdome Resources (WDO:TSX) and hosts Indicated Resources of 40 million tonnes at 1.1 g/t Au (1.4M oz) and additional Inferred Resources of 50 million tonnes at 1.1 g/t Au (1.7M oz) (NI-43-101 compliant; https://www.wesdome.com/operations/moss-lake-property).